---
Pittsburgh attack proved why we can't ignore anti-Semitism. The Anti-Defamation League warned that there was an increase of anti-Semitic incidents in the United States in 2017 compared to the previous year. The US has often been seen as the safest country for Jews.
Whereas in Europe the shadow of the Holocaust was always present. Recently, European Jews started feeling more threatened. Anti-Semitism has increased across the continent and across the entire political spectrum.
The history of anti-Semitism shows that in periods of political and economic distress Jews are easily blamed for being the cause of all evils. At a time that social tensions are again on the rise, some European politicians have been using Jews in their incendiary rhetoric to gain votes.
One of the clearest examples is the constant accusations against the Hungarian-born American-Jewish billionaire George Soros. He has been denounced by right-wing parties for manipulating world economy and sponsoring the so-called "white genocide". These false theories are especially supported in former Soviet camp like Poland, Russia and Hungary, where all of Soros' projects have been banned. In addition, Salvini, Farage, and Gauland criticise Soros and his network of NGOs as the financers of Europe's "migrant invasion".
In Austria, a cabinet minister of the ruling far-right party FPÖ defended the plan to require Jews registering to buy kosher meat. Another senior member of the party had to step down after it was revealed that the fraternity he leads used an anti-Semitic songbook. It included lyrics such as "Step on the gas, old Germanics, make it to seven million".
Regional politicians from Sweden Democrats Party have been caught for making anti-Semitic statements. One of them was mocking Holocaust victims with a picture of Anne Frank. Moreover, the case of Greece´s Golden Dawn looks more worrisome. The leader of this party is a Hitler admirer and his supporters are well-known for singing the Host Wessel song and giving Nazi salutes.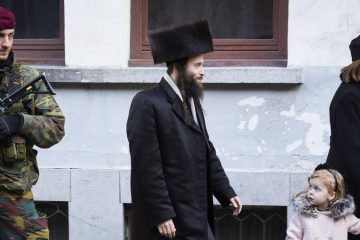 —
Tensions have been running high since the Polish government passed its "Holocaust Law" in January. The law made it illegal to affirm that either 'the Polish state or the Polish nation' was involved in Holocaust atrocities. The general feeling between Holocaust survivors in Poland is that the country´s progress in the last decades has been reversed. An academic study by the Israel Journal of Foreign Affairs has confirmed a surge in hostility to Jews in Polish media and politics during the last year.
Last week, some Italian media reported that the populist government would reduce the budget for the monthly payment that 'victims of political and racial discrimination' receive. This news alarmed the Jewish community of the country as that would affect the Holocaust survivors' pension fund. In addition, Lazio football club was fined in January after its fans depicting Anne Frank dressed with its main rival's jersey.
However, anti-Semitism is not monopolised by the far-right. Last week the British police launched an inquiry into allegations of anti-Semitic hate crimes from within the Labour Party. This comes after Scotland Yard received an internal Labour dossier listing 45 cases in which party members had posted anti-Semitic comments on social media. Since Jeremy Corbyn became Labour's leader the party has been criticized for having a deeply entrenched anti-Semitic culture.
Finally, France has been in the spotlight for several anti-Semitic scandals in past years. In fact, there have been 11 murders in the country motivated by anti-Semitism since 2000. Although Jews make up less than 1 percent of France's population, almost 40 percent of racially or religiously incited acts of violence were committed against Jews. Furthermore, around 50,000 French Jews have moved to Israel since 2000, compared to the 25,000 who left between 1982 and 2000.
On the whole, the anti-immigrant policies and hate speech from certain European governments are empowering anti-Semites. However, soldiers in front of synagogues and Jewish schools should never be a daily routine.
The EU and European leaders issued immediate condemnations after Pittsburgh mass shooting, but this is clearly not enough. We, Europeans, should remember that hatred and violence against the Jewish community never stops with Jews.