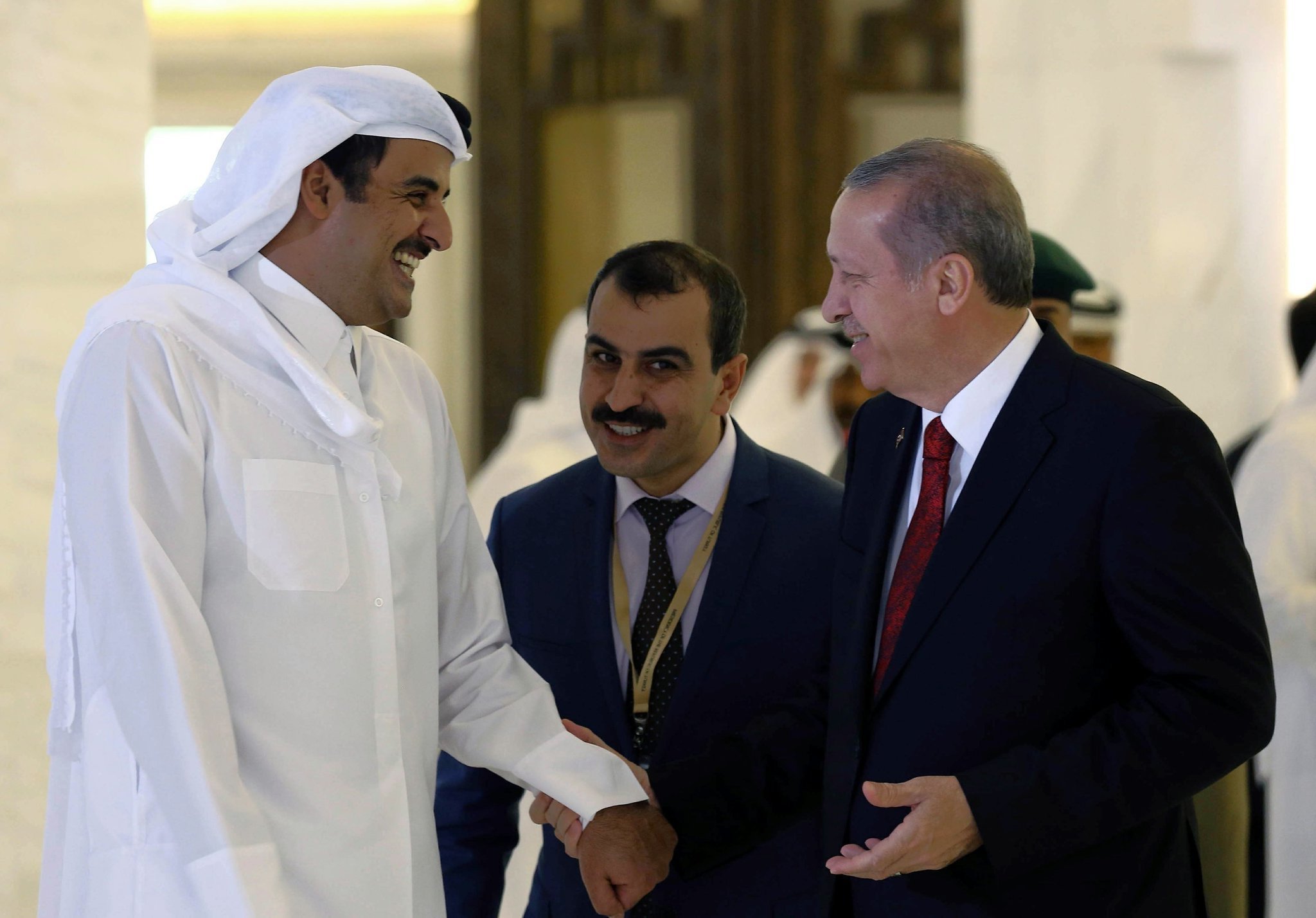 by  Zakir Gul
With Erdogan's ruling and governing, Turkey lost its neighbors and friends. No-friend-left-behind policy worked greatly. One of the exception to that is the  relations with Qatar that have been developing rapidly in the last couple of years.




Erdogan and Qatar leader Tamim bin Hamad al-Thani have become good friends, just like brothers. They both have some things in common such as supporting and financing radical groups in the Middle East and committing international crimes.
Qatar has become as active as its economy in the latest years. It undertook several mediating roles not only between some countries but also between some states and groups that are considered as radical. It is also a state that had connections with many states who are not allies themselves. For instance, it has connections with Iran, but it also has ties with US; it has connections with Saudi Arabia, but it has also connection with Yemeni Houthis, Afghani Taliban; it has ties with Israel, but also connection with Hamas. In that sense, it would not be wrong if we attributed Qatar as pragmatic.
In addition to being too active politically and economically in the Middle East, Qatar was claimed to have issues and at least some of assistance such as financing some radical groups.
Erdogan's politics and policy can be considered as pragmatic, as well. Erdogan is probably the most instant-changing politician ever in Turkey's history. Not too long ago, he was the great brother of Bashar Al-Assad whom he was hugging like a brother. Now, Assad is the archenemy.
Another example is; Erdogan was claimed to support some rebel groups including some Salafi Jihadi Terrorist groups (i.e. Jabhat Al Nusra) in Syria. However, all of a sudden, he turned his back to the groups he was supporting greatly. For some time, he was not even calling ISIS as a terrorist organization. Now, he claims them as terrorist organizations. He pretended to be the ally of US, but took part on Putin's Russia and Iran side. Most recently, he changed his mind, and took some roles with US-led coalition in Syria. It will not be hard to predict that Erdogan will turn his back to his new brother, Tamim, when time comes and their interests conflict.




Nowadays, their relationship is at highest peak. Qatar allowed a Turkish military base to be stationed in Qatar. However, what is the common ground between Qatar's Tamim and Erdogan? What is behind this Hamad-Erdogan Brotherhood? They were so bodies that even during the July 15 military coup attempt Qatar sent 150 members from its special forces to protect Erdogan.
Erdogan did not conceal that he supported Muslim Brotherhood, particularly in Egypt. Nor did Tamim. It is also claimed that both leaders supported Shame al Japha and Al-Nusra, and even ISIS in many ways. The irony is, both Erdogan and Tamim visit each other so frequently in order to discuss 'war on terror' and some other issues, even though they are major funders of terror groups.
The tensions are high in the Qatar Royal family. There are rumors of problems between Hamad bin Khalifa, the father and former Emir before 2013, and the current ruler, Tamim bin Hamad al-Thani. Hamad claimed that his now-ruling son, Tamim, who is like a brother to Erdogan, suffers mental illness. Even worse, he claims that his son Tamim was helping and supporting terrorism extremist groups. It is serious as the claims come from within the family, from the father.




The question is: How will all these claims and allegations affect and extend to Erdogan? As it seems like Qatar is left as the only friend in the region. Could that great friendship be the reason for so-frequent-mutual-visits of each other?! If Erdogan has some investments in Qatar, how would those investments be affected when the opposition in the Royal family succeeds to overthrow Tamim? Erdogan might be somewhere in the equation, but "where" question remains unanswered for the moment. As they say, if there is smoke, there might be fire.
Finally, it is highly possible that one day, both Erdogan and Tamim will confront International Criminal Court (i.e. Nuremberg Trials) for supporting some radical groups and committing international crimes. Let us wait and see.