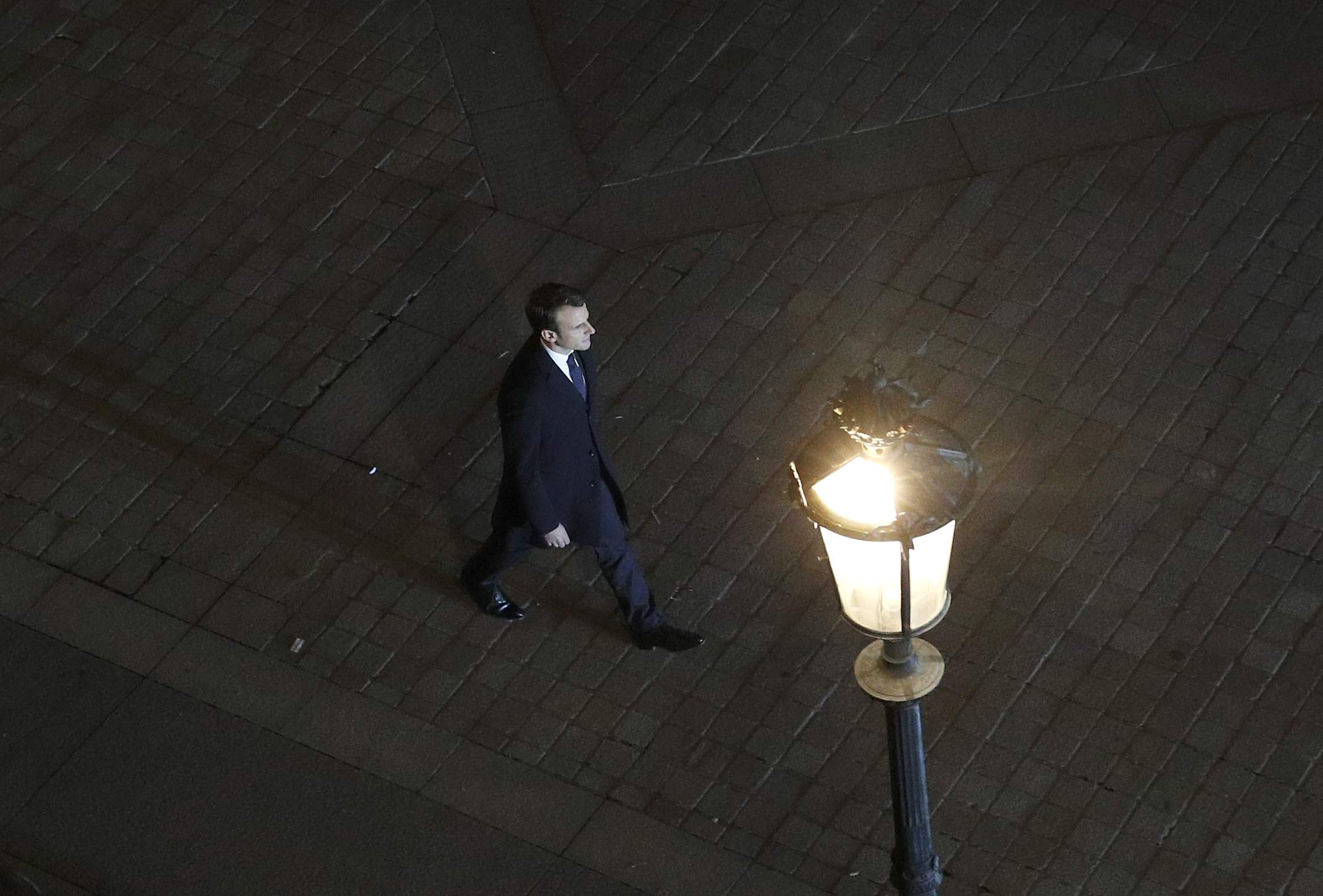 Emmanuel Macron's victory yesterday was remarkable. Standing for elected office for the first time, aged 39, he took the presidency with 66.1% of the final round vote. He achieved this with only the support of a political movement founded a little over a year ago. This represents the first time in the history of France's Fifth Republic that a president has been elected without the backing of a formal party machine.




Speaking after his election, Macron said:
l will defend France, its vital interests, its image and its message: I make that commitment to you. I will defend Europe, the common destiny the peoples of our continent have given themselves.
I'm aware of the divisions in our nation which have led some people to extreme votes. I respect them. I'm aware of the anger, anxiety and doubts that a large proportion of you have also expressed. It's my responsibility to listen to them while protecting the most fragile.
Why did people vote Macron?
Macron has achieved something absolutely extraordinary. Yet, while his victory is indisputable, once the hangover is gone, he will have a few points to reflect on.
Firstly, it speaks volumes that an anti-EU candidate winning nearly 34% of the vote in the second round of a French presidential election is widely being dismissed as nothing but a huge disappointment for Marine Le Pen. And this after over 40% of the first-round vote went to anti-EU candidates, when far-left firebrand Jean-Luc Mélenchon is included. Let's put things in context.
Marine Le Pen yesterday obtained over 10.6 million votes – almost twice as many as her father Jean-Marie in 2002. She increased her tally by nearly three million votes compared to the first round two weeks ago. One could argue she was hoping for more, but these figures suggest complacency is completely misplaced. Le Pen's leadership might be in question and Front National looks set for a change of name – but it's definitely not dead.




Secondly, turnout was 74.6% – the lowest since the 1969 presidential election, and lower than first-round figures, which is very unusual. Over 12 million French decided not to cast their ballots. Furthermore, over 4 million of votes cast were either blank or spoilt – compared to fewer than 2.2 million five years ago.
Finally, the way the French electoral system works certainly played a role. In other words, it is fair to assume that a good number of those who voted Macron yesterday did so to stop Le Pen getting into power – rather than because they suddenly realised they fully agree with Macron's ideas and manifesto.
This interpretation appears to be corroborated by this Ipsos poll for France Télevision, according to which 43% of respondents who voted Macron did so mainly because they did not want Le Pen to win. 33% chose Macron because of "the political renewal he represents", 16% because of his programme, and 8% because of his personality.
These considerations put a dent in the narrative of the 'overwhelming mandate for more Europe', and give a more realistic idea of the challenges Macron will be facing – something which, in fairness, he acknowledged in his victory speeches yesterday night.
Does Macron represent France's new embrace of economic liberalism?
Macron's mandate has often been described as one of economic liberalism, with Le Pen repeatedly branding him as the candidate of "ultra-liberalism" and "uberisation." Macron has laid out initiatives for greater labour market flexibility, lower cooperation taxes, and a reform of the wealth tax. But the concept of economic liberalism sits uneasy with Macron in other respects – as it has with pretty much all other French presidents. For instance, in his manifesto, Macron called for the introduction of a "bedrock of European social rights" within the EU:
We will demand that a bedrock of European social rights is put in place, by defining the minimum standards in terms of right to education, healthcare coverage, unemployment benefits or minimum wage (taking into consideration the unequal development of EU member states.
He also said:
We will fight to strengthen anti-dumping instruments, which must be more dissuasive and more reactive (for example, in order to fight against unfair competition in steel from countries like China and India).
He also supports the protectionist "Buy European Act," a proposal first issued by former centre-right French President Nicolas Sarkozy:
We will support a "Buy European Act" that allows access to European public markets to be reserved for companies that base at least half of their production in Europe.
A dramatic shift towards economic liberalism does not seem to be on the cards – many of Macron's policies chime with a traditional French protectionist stance, and fail to support Le Pen's description of Macron as a proponent "unfettered globalisation." His slogan for the EU is after all a "Europe that protects" – a soundbite often used by conservative candidate François Fillon, for instance.




Furthermore, he could even struggle to realise his more economically progressive policies unless he gains a majority in the June's legislative elections. As we have noted before, without a parliamentary majority, Macron could see his executive powers largely limited to foreign and security policy.
What will Macron's election mean for Brexit?
Some have been quick to point that Macron has taken a tough stance on Brexit negotiations. In an interview with Monocle earlier this year, he said:
We have to accept that there are losses [from Brexit]. But it's the British who will lose the most. You cannot enjoy rights in Europe if you are not a member – otherwise it will fall apart.
The British are making a serious mistake over the long term….What has been happening since [Brexit]? On the geopolitical level as well as on the financial – realignment and submission to the US. What is going to happen is not "taking back control": it's servitude.
It is worth noting, however, that the President-elect's stance largely echoes the current Socialist French President, Francois Hollande. Hollande has previously warned that Brexit cannot be more beneficial to Britain than membership of the EU. Any interpretation of Macron's hard stance toward Brexit should therefore recognise that France is already expected to prove one of the toughest negotiating partners around the table.
That said, a candidate standing for president is likely to take a particularly hard line in order to attract votes. Macron may not adopt the same position when he takes his seat around the negotiating table. Mats Persson, former special advisor to David Cameron during his EU renegotiation, and former Open Europe director, said:
Fwiw, found Macron to be among the more pragmatic during the EU renegotiation. Brexit is different but his hawkishness may be over-stated https://t.co/QOfqZPH927

— Mats Persson (@matsJpersson) May 7, 2017

Macron's top economics advisor, Jean Pisani-Ferry, also told BBC's Radio 4 this morning:
I don't think anybody has an interest in a hard Brexit. I think we need to build a new relationship. There is a mutual interest in keeping prosperity that exists, that has been built over the years from lots of economic and various relationships, also the security and defence relationship is extremely important in the kind of environment we are in and which is a very dangerous environment. So we have to keep all that.
But he went on to stress:
At the same time we have divergent interests on some aspects of the negotiation, so there will be a tough negotiation and he [Macron] will be tough.
However, in terms of its effect on the unity of the EU, the Macron presidency should be beneficial for negotiations. If Le Pen had won yesterday, on a mandate to lead France out of the Eurozone and the EU, the EU would have been faced with a much larger and more pressing crisis than Brexit. However, with Macron leading France, the EU can breathe a big sigh of relief – its second largest economy is now led by a staunchly pro-EU president who already echoes key EU messages on Brexit. Undoubtedly, a self-confident, unified EU is more likely to deliver a promising Brexit deal than one dogged by its own existential crisis.