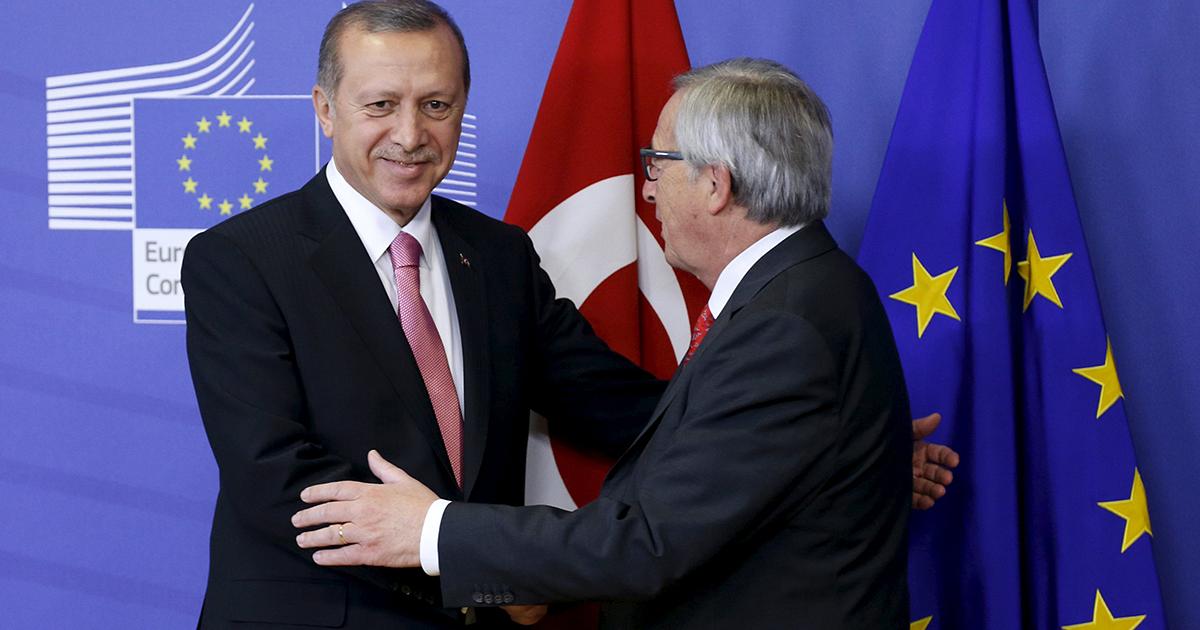 Last week, EUobserver reported that EU Commission President Jean Claude Juncker got mad when he heard about Turkish President Recep Tayyip Erdoğan's request that a video mocking him on a German TV should be immediately removed. Erdoğan might have thought that the Turkish law that punishes insulting president but hardly heard of until his presidency could also be applied in Germany. He has already sued more than 2000 people for insulting the president, an unprecedented number in Turkish democratic history. The German Ambassador in Ankara was summoned to the Ministry of Foreign Affairs to convey the request of the Turkish President.
Feeling the heat to react, Juncker's spokeswoman made it crystal clear that 'Erdogan can not silence EU media' but apparently he can in Turkey and that does not bother Juncker much.
As a Turkish journalist whose newspaper ZAMAN has been recently seized by AKP government, Juncker's statement could not have come at a more unfortunate time. The basic message I got from Juncker's 'message' was whatever Erdoğan did to gag the media in Turkey was off the limits as far as the EU was concerned. As long as Erdogan does not touch freedoms in Europe and keeps refugees away, it seems, he has gotten a full green light to do whatever he deems appropriate in his country.
Juncker showed this was true not only by his words but by his deeds as well. Three days after Erdoğan regime seized Turkey's largest circulating newspaper and turned it into a government mouthpiece overnight, Turkish Prime Minister Ahmet Davutoğlu received a red carpet treatment in Brussels to make sure no more refugees would arrive via Turkey.
In the next summit on March the 18th, Davutoğlu was lecturing EU Council President Donald Tusk and Juncker about human rights in Europe when the so-called trustees appointed to ZAMAN had already sacked almost 150 journalists, banned stories on corruption charges of December 17, 2013; halted news on the pro-Kurdish HDP and figures showing the dramatic fall in the number of tourists visiting Turkey, among others. In the press meeting with Davutoğlu, Tusk preferred to talk about human rights problems in Russia while Juncker highlighted the importance of the steel strategy and new VAT action plan after they both hailed the deal with Turkey. There was no mention of dismal state of media freedom let alone any condemnation of ZAMAN's brutal seizure.
Having been barred from press meetings in Turkey since early 2014, we kept our hopes alive that we would be finally given a chance to question Davutoglu to hear his version of media freedom in Turkey. He had famously declared on CNN that media freedom was a red line for him.
Sevgi Akarçeşme, the sacked editor in chief of Today's ZAMAN was in Brussels to cover the EU-Turkey summit and was eager to raise a question at the press meeting, a right she has been denied for years. Despite our texted requests to Preben Aamann, Tusk's spokesman that went unanswered and API's efforts together with our European colleagues' help throughout the day, Aamann chose not to give us any chance of a simple question.
In the carefully choreographed press meeting, the questions given to the Turkish side were anything but question.  After 'successfully' silencing the biggest critical newspaper of Turkey, it seemed, Erdoğan had also managed to convince his European counterparts not to embarrass him with unwanted questions. To be fair, it was only the President of the European Parliament Martin Schulz who let us ask him questions on the seizure and who also referred to the problem in his statement to the Council.
After all, it was Juncker backed by the member countries that engineered the delay of the damning progress report until after elections of November the 1st in Turkey that brought Erdoğan's party to power again. It was Juncker and member states who agreed on softening the language of the report.
In the minutes leaked to the Greek press on Erdoğan's meeting with Juncker and Tusk last November, the Commission President is quoted as saying: 'Please note that we postponed the progress report until after the Turkish elections.' And continues to confirm the already well-known fact that the report was postponed upon Erdoğan's request. It is now quite clear that fundamental freedoms in a candidate country was up for bargain to enable a political party to win upcoming elections. On the bargaining table, EU was represented by its two top leaders.
So, when I listen to European politicians these days talking to Turkish leaders and insisting that press freedom is non-negotiable, I can not help but believe that EU leaders are not interested in upholding the credibility of the Club anymore. In the meantime, Erdoğan has just announced his plans to strip 'terrorists' (in Erdoğan regime, whoever dares to criticize him is a  potential terrorist) of citizenship, something we lived through at the last military dictatorship in 1980.
*Selcuk Gultasli is Zaman Brussels Bureau chief.