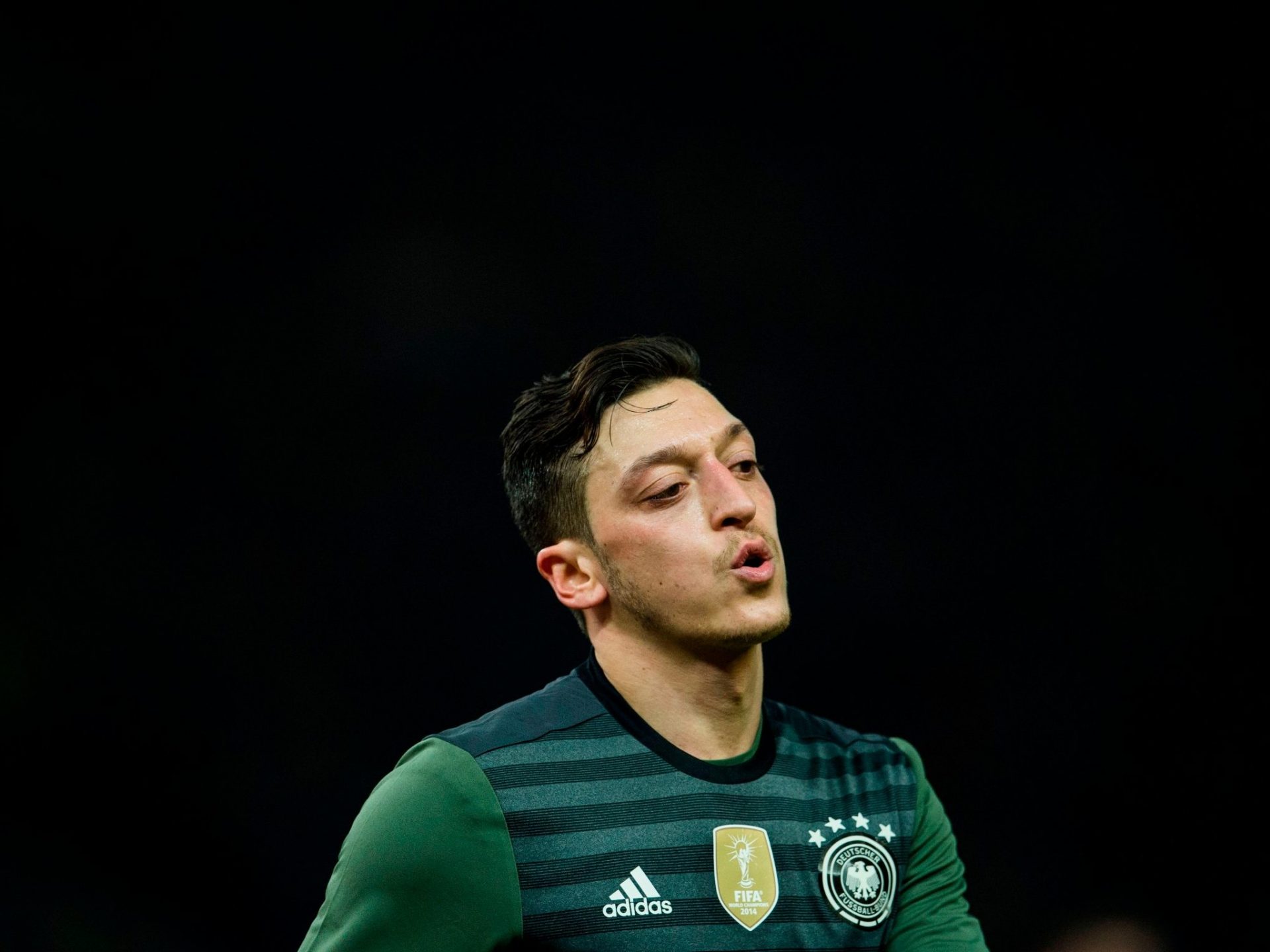 [authorbox authorid="92″ title="The Author"]
Mesut Ozil, Germany's star football player of Turkish origin has announced his retirement from Germany's national team on Sunday. Ozil stated discrimination and racism he has experienced particularly after the World Cup in Russia as the reason leading him to quit German National team.
The Arsenal midfielder, who has won 92 caps for Germany was also a key player of Germany's World Cup-winning team in 2014.However, his name became a current issue apart from his prominent career.
Ozil has been criticized over his photo with the Turkish president Recep Tayyip Erdogan during an event in London. Ozil's pose is regarded as a support to Turkish president's political campaign undermining Turkish democracy and of ignoring the human rights of political opponents. Some German politicians criticized Ozil's pose with Erdogan ahead of the 24 June snap elections of Turkey. Questioning his loyalty to Germany, Ozil had been suggested to be removed from the squad.
Ozil's meeting with German President Frank-Walter Steinmeier together with Ilkay Gündogan, another Turkish origin German footballer, could not clear the air following their controversial photos with Turkish President Recep Tayyip Erdogan. Steinmeir referred to the importance of the meeting to clear up the misunderstandings occurred.
German president added two footballer's loyalties to Germany during the meeting has been affirmed. However, both Ozil and Gündogan have faced further critics thereafter eventually resulting Ozil's retirement from the German National Team.
Most severe criticism came from DFB President Reinhard Grindel and DFB Sports Director Oliver Bierhoff. Grindel and Bierhoff associated Ozil-Erdogan meeting with Germany's poor performance at the 2018 World Cup.
"Of course, the DFB respects the special situation of players from migrant backgrounds, but football and the DFB stand for values that are not sufficiently respected by Mr. Erdogan. It's not good that our players are letting themselves be exploited for the good of his (election) campaign. The actions of these players have not helped the integration efforts of the DFB." Stated Grinted.
Ozil rejected the accusations that he had been "exploited" by Erdogan for political purposes.
"

Although the German media have portrayed something different, the truth is that not meeting with the President would have been disrespecting the roots of my ancestors, who I know would have been proud of where I am today

"
adding that the meeting "wasn't about politics or elections" stated Ozil.
Ozil in his statement also refers to Grinted's political background. In 2004 when Grindel was German member of Parliament called multiculturalism "a myth [and] a lifelong lie" during his speech. According to Ozil "In the eyes of Grindel and his supporters, I am German when we win but I am an immigrant when we lose." Ozil expressed his disappointment.
"It is with a heavy heart and after much consideration that because of recent events I will no longer be playing for Germany at international level whilst I have this feeling of racism and disrespect. I used to wear the German shirt with such pride and excitement, but now I don't. I feel unwanted and think that what I have achieved since my international debut in 2009 has been forgotten." Also, he stressed during his statements "Racism should never, ever be accepted."
Ozil's retirement from German national team has created a tremendous impression sparkling debates on integration and racism.
German chancellor Angela Merkel appreciated Ozil's achievements for the national football team adding German-born Ozil's decision "has to be respected".
Both German Foreign Minister Heiko Mass and German Justice Minister Katarina Barley hold an approach which can be regarded as self-critical calling parties involved in this issue to look inward.
Germany's far right Alternative fir Deutschland meanwhile regarded Ozil's retirement as "a typical example of the failed integration of far too many immigrants from Turkish Muslim cultural circles".
Green Party Member of the Bundestag Cem Ozdemir interpreted the issue stating, "Ozil's photo was wrong and his explanation isn't convincing, but at least as disastrous are the actions of the DFB leadership".
On the side of Turkey Ozil's decision has been found just and supported. Erdogan's spokesman Ibrahim Kalin regarded Turkish-German footballer's retirement as "a pity for those who claim to be tolerant and multiculturalist"
Debates over Ozil's decision seems to be continue for a longer time. It may have further effects on German players with multi-ethnic backgrounds. Ozil such as other Germans with immigrant origins has been so far presented as ideal images occurred within Germany's successful integration policies.
Recently retired German-Turkish footballer Ozil won an award in 2010 for his integration work. Therefore, his retirement from the National team due to the feelings of discrimination and racist attitudes may bring the necessity to rethink Germany's diversity management and integration policies.