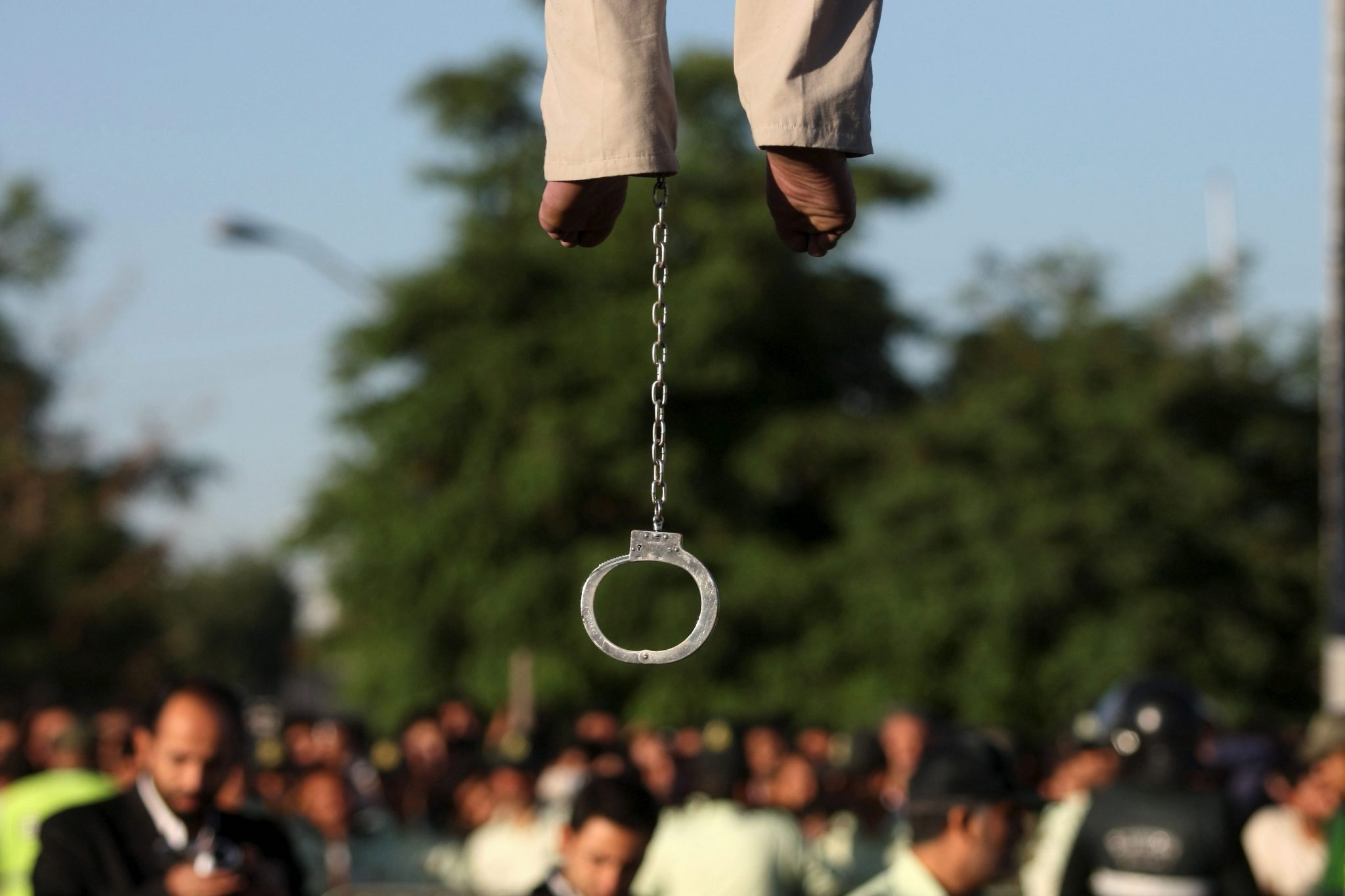 DISCLAIMER: all opinions in this column reflect view of the autor(s), not of Vocal Europe
by Donya Jam
Executions are continuing in Iran unabated.   At least 42 inmates have been hanged by regime authorities during the first weeks of 2017, including a mass execution of 21 prisoners in one day.  The lack of due process for these prisoners also exemplify once again how deeply flawed and unjust Iran's judicial system really is.
Between Jan. 1-12, twenty-one inmates were sent to the gallows.  Seven were hanged just in the first few days of the new year in prisons located in Karaj and Qazvin.  Among those executed in Qazvin was Nasrollah Khazaei, a young inmate whose case was still open.
For prisoners to receive proper due process in Iran is rare, and to execute a person while the case is still under review is certainly a new level of cruelty.  
Nasrollah Khazaei was charged with possession of drugs.  Khazaei had no previous criminal record and his case was still being reviewed, having been told it would take up to two years to complete.
Before his death, Khazaei contacted his family to inform them what was happening and that the authorities are taking him for execution.
In an interview with a Persian language news agency, Khazaei's brother talked about their last phone conversation before his sibling was taken for execution and mentioned, "I screamingly said, but the case is still being reviewed. My brother said no matter how much I tell them, they do not accept. After that, they took him away and hung up the phone."
According to the interview, when Khazaei's brother contacted the authorities, they acknowledged that he shouldn't have been executed.
In another heinous act, on Jan. 14, the regime of Iran reportedly executed at least 21 inmates in prisons of Karaj Central Prison and Gohardasht (Karaj's Rajai Shahr) Prison.  Among those executed in Karaj Central Prison was Mohammad Soleimani, a father of three children.
Soleimani was hanged despite an urgent and joint call by two prominent NGOs, Amnesty International and Human Rights Watch calling on Iran to halt all imminent executions in Karaj Central Prison.
According to the report published by the NGOs, the executed prisoners including Soleimani who was arrested on charges of possessing drugs, did not receive a fair trial, which is the common thread among many of the inmates executed by Iran.
"Packing prisons with drug offenders and rushing to send them to death row without due process in highly flawed trials will just worsen Iran's justice problem while doing nothing to solve Iran's drug problem," said Sara Whitson a director at HRW.
President Hassan Rouhani, who is referred to as a reformist by the west has failed on his promises of bringing improvement to the human rights situation in Iran, proving that moderation is simply a myth. Since coming into office in 2013, thousands of prisoners have been hanged including a large number of political prisoners and juveniles.  Thousands more remain on death row in prisons across the country.
Iran's appalling human rights record, especially in the early weeks of the new year demonstrate yet again that it needs the attention of the international community more than ever.  Continuous silence in the face of ongoing violations of human rights occurring in the country has been going on for too long.  The death penalty in Iran needs to be brought to an end, and Europe can play a key role in helping enable this to happen.
Many European countries have rushed to complete business deals with Iran, especially after the nuclear deal.  Some European politicians have also travelled to Iran to meet with its leaders.
The executions should be strongly condemned by leaders of European governments, but not solely that.  European countries have been advised by the National Council of Resistance of Iran (NCRI), to make any deals with the regime conditioned upon a halt to the death penalty.  The NCRI is a parliament-in-exile that seeks the overthrow of the dictatorship in Iran, and seeks to establish a democratic republic.
During an international conference in Paris, Mrs. Maryam Rajavi, the President-elect of the NCRI said, "The European Union may have a positive impact on the situation in Iran and the Middle East to the extent that it makes its political and commercial ties with Tehran contingent on an end to executions."
The Iranian regime is emboldened by the silence relating to its human rights record, which is why executions are skyrocketing.
Dealing and negotiating with a regime that consistently violates the human rights of its people, will only continue to send a green signal to the regime's leaders to continue its massacres of prisoners.  A line needs to be drawn. As the NCRI has also discussed, "Ignoring the catastrophic situation of human rights in Iran by the international community and silence about mass and arbitrary executions has emboldened the religious fascism ruling Iran to continue its crimes."
Action needs to be taken immediately, as new victims of Iran's brutality are claimed each day.
Iran's judicial system is deeply flawed and unjust, as Khazaei and Soleimani's cases have highlighted.  European governments can play an active and important role in helping bringing a final end to the death penalty in Iran.  The first step would be to strongly condemn the recent wave of executions and then making relations with Iran contingent upon an end to the death penalty.  Will Europe take action and finally break its silence?