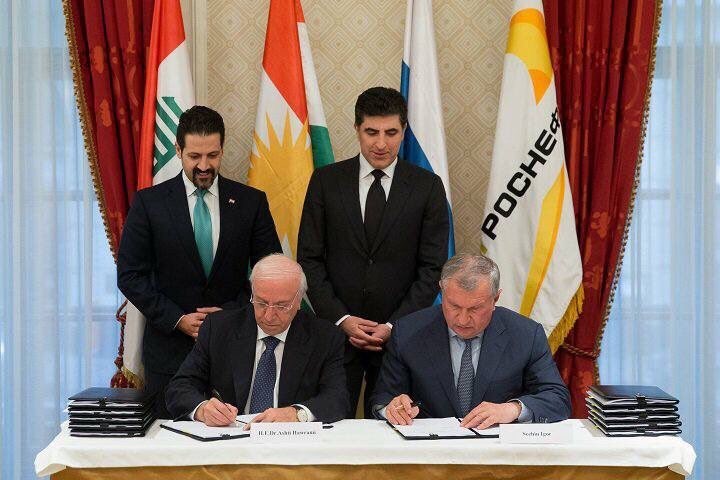 The referendum in Kurdistan on Kurdish independence from Iraq has, to say the least, stoked anxiety in regional and international capitals as to what comes next.
Secession would threaten the legitimacy of Iraq's territorial integrity, has been called a "historic mistake" by Turkey – fearful of its own Kurdish population's aspirations – and Iran opposes the referendum despite historically good relations with the Iraqi Kurds. Turkey, Iran, and Iraq have all publicly signaled that they would take countermeasures against Kurdistan were it to vote for its independence. It is as yet unclear what those measures are.
[alert type=blue ]Author: Nick Trickett is a former associate with Reconnecting Asia and he is recently working for Bear Market Brief.[/alert]
Amid all of this, Russia has emerged as Kurdistan's largest funder. As much as $4 billion in Russian investment through oil giant Rosneft has reportedly been pledged, including a potential natural gas pipeline meant to export gas to Turkey and beyond by 2020. But Russia's rising influence in the Middle East is aided by closer cooperation and engagement with Turkey and Iran – so support for the Kurds is a potential flashpoint for Russia's relationship with all three countries.
Public statements signaling Russia's stance aren't particularly useful:




None of these statements provide a particularly coherent approach to self-determination and territorial integrity. It remains to be seen if Russia can pull off its balancing act between the opposing interests of its once and future partners as the fight against ISIS, the Syrian Civil War, and Turkish, Iranian, and Iraqi responses to the referendum develop.
Sechin's Word to the Wise
Rosneft is the Russian company on the ground financing oil deliveries from Kurdistan and aiming to invest into oil and gas fields as well as infrastructure, a fact that bears scrutiny. Iraqi oil has been a prize for Russian firms for some time. Until recently, Igor Sechin –former GRU translator and bodyman for Putin now at the helm of Rosneft – was left out. Sechin's attack on former Economy Minister Alexei Ulyukayev and sale of Rosneft shares to China were likely not pleasant surprises for Vladimir Putin. Putin's effective monopoly on violence and retribution has diminished and he personally lobbied against reliance on Chinese partners during construction of the Eastern Siberia-Pacific Ocean pipeline, opting to use Japanese plans and negotiating partners because of his distrust of the Chinese at the time. Despite this, Sechin has made it clear that he will play an outsized role in Russia's power projection at home, in Asia, and in the Middle East as well.
When Iraq began awarding oil contracts in 2008 and 2009, Rosneft was not positioned to take advantage. The company was still incorporating assets taken from Yukos and focused on increasing control of the domestic market in Russia, crucial to gaining political influence in Moscow. Competitor Lukoil signed contracts for a giant field in 2009, joined by Gazprom Neft in 2010 Bashneft in 2012 at other fields. All had to negotiate fees paid per barrel from the government in Baghdad to compensate them for their investments. These fees are perpetually scrutinized as oil prices and the security situation in the country fluctuate. With lower prices, Baghdad aims to have companies share the burden of lower prices by linking their fees to prices directly.
For reference, here's a general map of Iraq's oil infrastructure from Platts:
Russian firms' assets before the latest Rosneft deals are broken down below:
Lukoil – Lukoil's principle asset in Iraq is the West Qurna Phase 2 field west of Basra in southern Iraq. Norway's Statoil sold its shares of the project in 2012 to Lukoil, bringing Lukoil's share to 75% with the rest going to the Iraq National Oil Company (INOC) through its subsidiary, the Basra Oil Company. Production had exceeded 280,000 bpd by late 2014 and Lukoil's agreement with INOC aims to achieve 1.2 million bpd in production from the field. Lukoil has invested about $6 billion thus far with $1.5 billion allocated for 2017 and negotiated a $1.15 fee per barrel produced in direct compensation from Baghdad. Reference here:
Lukoil also has exploration rights for Oil Block 10 in Southern Iraq, making a discovery this February with Japanese partner Inpex. Reference here:

Gazprom Neft – Gazprom Neft's principle asset lies in the Badra Field in the Wasit region of Eastern Iraq, its first international project. Gazprom owns a 30% share and currently produces 80,000 bpd at Barda. The company's development program aims for a target of 170,000 bpd once all investments have been made. The project calls for $2 billion in investments over 20 years with an agreed fee of $5.50 per barrel paid by the Iraqi government at the time the contract was signed.
Reference here:
Gazprom Neft also has stakes in oil fields in Kurdistan, owning 80% of the Shakal and Halabja fields as well as 40% of the Garmian field. The KRG holds a 20% stake in all three. These three fields are primarily in the exploration stage.
Bashneft (now Rosneft) – In November of 2012, Bashneft signed an exploration and development agreement with the INOC subsidiary the Southern Iraq Oil Company, taking a 70% share of a project in oil block 12 in southwestern Iraq after buying out partner Premier Oil's 40%. The contract stipulated spending $120 million on geological exploration over 5 years. Geologic surveys were completed in April of 2015 and Rosneft began the first drilling operations this February.
Bashneft's Iraq assets had to have interested Igor Sechin when he lobbied to acquire the company during its so-called privatization for a few reasons: they would give him cause to deal with the Iraqi Oil Ministry, a physical asset with production costs lower than in Russia, and an angle into Russia's policy in the region. After failing to find interest among private firms such as Lukoil, the Kremlin sold state-owned Bashneft to Rosneft for $5.3 billion last October. With the sale, Rosneft gained a toehold in Iraq. The Block 12 contract for Bashneft stipulated $9.85 in remuneration from Baghdad, a sweetheart deal compared to the contracts negotiated by Lukoil and Gazprom Neft and a powerful piece of leverage for negotiations with the Iraqi Oil Ministry.
Access to oil and gas reserves that remain unexplored is crucial to Rosneft's aims. The company has already become the largest producer of natural gas for Russia's domestic market apart from Gazprom, aiming for 100 bcm of production by 2020, and is looking to breakup Gazprom's pipeline export monopoly as well as cement its place as Russia's premier corporate power. Kurdistan has become a side-theater for competition between the two giants. Rosneft signed its initial oil exploration agreement with the KRG on June 2nd. Just a week later, Gazprom Neft signaled interest in expanding its activities in Kurdistan – it's already involved drilling three fields there.
That competition is also external. Chevron and ExxonMobil have walked away from projects as a result of less than stellar findings, but the former has resumed drilling after a 2-year break. The international oil major showed a great deal of confidence in the region's future despite the uncertainties hanging over the referendum as is Rosneft. Kurdistan's Ministry of Natural Resources estimates that the region holds 45 billion barrels in oil reserves. Kurdistan's daily production hovers around 600,000 barrels per day (bpd), larger than OPEC member Qatar's daily production set to decline from its peak of 500,000 bpd.
Rosneft and other Russian firms are also interested in Kurdistan due to the effects of sanctions, limited access to financing, and costs. Offshore deposits are either too expensive, too complicated due to sanctions on drilling technology, or inaccessible to Russian firms. The relative cost of production in Russia and Iraq is shown here in a graphic from Market Realist:
(Un)peaceful Pipes
Kurdistan is also attractive for Russian interests as a matter of its geographic location. The pipeline politics of Iraqi Kurdistan's oil and gas exports play directly into Russia's regional interests. The big announcement that precipitated the recent spate of coverage before the referendum concerned an agreement to expand strategic cooperation between Rosneft and the Kurdistan Regional Government (KRG) to include construction of a natural gas pipeline. Agreement on construction of a pipeline with a capacity of 30 billion cubic meters (bcm) may be reached at year's end. Rosneft would make its returns on investment from pumping tariffs and rates of return agreed to by the KRG. Most significantly, the gas produced and exported would end up going to the European market.
Turkey's natural gas demand has been estimated at around 46 bcm for 2017. Platts estimates that natural gas demand will stagnate this year and that demand is unlikely to even reach 60 bcm in the near future, a significantly lower figure than the 81 bcm projected in 2012. Rosatom's investment into the Akkuyu nuclear power plant will reduce natural gas demand for electricity generation. Construction is expected to start early next year. Turkey has long sought to exploit its geographic location to become an energy hub and lessen dependence on Russia for its natural gas supply. Investments into Kurdistan would undermine that goal despite progress on the Southern Gas Corridor, a string of pipeline investments opening up the Turkish and European markets to natural gas imports from Azerbaijan.




The EU has sought to diversify its natural gas imports away from Russian gas, in part adopting regulations to prevent Gazprom or other Russian firms from building or buying pipelines and denying third parties access. However, the EU wrote in important exemptions. Those exemptions do not apply to infrastructure in Turkey proper and can be contested in court elsewhere. The proposed natural gas pipeline from Kurdistan would not face the same legal scrutiny and force the hand of importers to lobby to allow more Russian gas to transit in the interest of driving down consumer prices. Rosneft would then be competing with Gazprom for European consumers and could, theoretically, undercut them in some markets given lower comparative costs. Reference here:
Oil is also part of the equation. Oil from Kurdistan is exported via the Kirkuk-Ceyhan (KC) pipeline to the Turkish port of Ceyhan, an oil hub also connected to the Baku-Tbilisi-Ceyhan (BTC) pipeline moving Caspian production – mostly from Azerbaijan – to the Mediterranean. The pipeline's capacity hangs around 700,000 bpd, 100,000 bpd of which are provided daily by oil fields around Kirkuk under Iraqi control. The KRG and Rosneft's June agreement outlined terms for the expansion of the KC pipeline to 1 million bpd by the end of this year. Reference here:


Kazakhstan's rising production at its fields, namely Kashagan, could be transported via the BTC. As Azerbaijan's oil production enters terminal decline, more oil flows from Central Asia could potentially fill up the pipeline's 1.2 million bpd capacity. The KRG and Rosneft have agreed to expand the KC pipeline's capacity by 300,000 barrels, an important cap on Kazakhstan's options for export as long as Turkey keeps the pipeline open. Ceyhan would need to expand capacity and become another point of competition between firms and states with regional interests while Kazakhstan's new production would be routed through Russia for the foreseeable future.
Tomorrow, and tomorrow, and tomorrow…
 While Russia may have a clear set of strategic aims in the Middle East, the opportunistic tactics the Kremlin and Russia's corporations adopt often fail to adhere to a steady strategy. The upcoming week after the referendum is sure to produce a wide array of anxiety, political signaling, and possible escalation. Turkey launched tank drills on the border last week, Iran has halted flights to Kurdistan at Baghdad's request, and Baghdad has ordered Kurdistan to hand over its borders and ports. Only Israel is openly backing the referendum, a result of its foreign policy and energy security interests: in 2015, Israel was buying around three-quarters of its oil imports ($1 billion) from Kurdistan and uses the oil trade as a means of financing security cooperation.




Russia's non-stance on the referendum will only work if it can somehow manage all the conflicting interests between its partners and the Kurds. The oil and gas in Kurdistan can clearly buy influence and cement Russia's presence, but it won't come free. Igor Sechin's portfolio keeps expanding: Rosneft has already acquired stakes in Egypt's natural gas sector, signed supply deals with Libya, and lobbied for weaker Gazprom export controls. Rather than view this latest move as evidence of a brilliant Russian plan, one might best ask the question who benefits? Aside from Rosneft and Igor Sechin, we don't know yet. Check in next week when we know more.
[toggler title="Source" ]This article was originally published by Bear Market Brief.[/toggler]