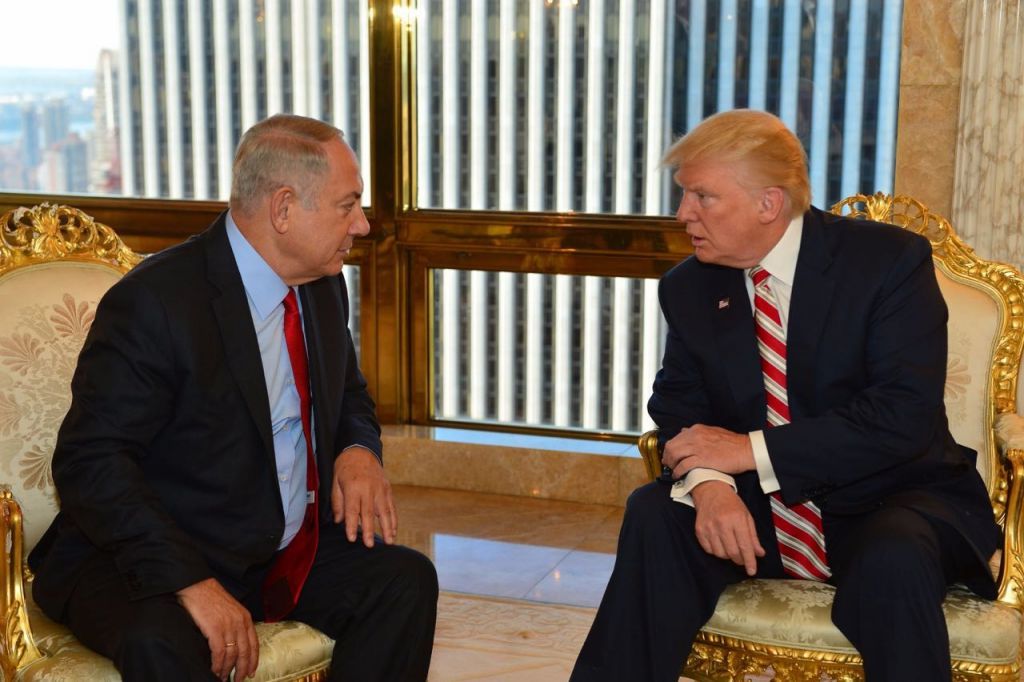 by Marie Shuqha
Israeli Prime Minister Benjamin Netanyahu stated that he wants President-elect Donald Trump's help in working out a deal with the Palestinians on 'two states for two people' as well as a US-led nuclear deal.
In a CBS interview, Netanyahu said that it wasn't too late to undo the deal that was one of current US president Barack Obama's landmark achievements regarding foreign policy. Netanyahu further said that he would present five new ideas to discuss the deal with Trump.
"I think what options we have are much more than you think. Many more," Netanyahu said when asked if he did not fear that abrogating the nuclear accord would put Tehran on the fast track to a nuclear weapon. "And I'll talk about it – with President Trump," said Netanyahu, according to a transcript of the interview, adding that Iran had not rushed toward the bomb before because they "were afraid of retribution."
Although Netanyahu implicated having five new ideas regarding the deal – a deal that he vigorously campaigned against – he declined to further elaborate, as he wants to discuss them with Trump first.
During his campaign, Trump said he would tear apart the nuclear deal, because in his opinion it was the worst deal ever made in history. However, his pick for Secretary of Defense, General James Mattis, is opposed to rescinding the accord.
Netanyahu was asked if he thinks relations with Washington will get better after a tumultuous year with the Obama administration, admitting that he and outgoing President Obama had their differences but that it was never personal.
"Suppose we had the greatest of personal chemistry, okay? So what, you think I wouldn't stand up against the Iran deal if I thought, as I did, that it endangers the existence of Israel? Of course I would."
In early 2015, when differential issues and controversy reached its highest peak, Netanyahu defied the Obama administration by accepting the Republicans' invitation to share his criticism regarding the nuclear deal before a joint meeting of both houses of US Congress.
Netanyahu admitted one benefit of the Iran deal: the fact that it brought the Arab states and Israel closer together. He said that Israel's position in the Arab world has changed because they no longer see Israel as their enemy but as their ally, in their indispensable battle against the forces of militant Islam, either those led by Iran, the Shiites, or – and those led by Daesh – by ISIS, the militant Sunnis.
He named Egypt and Jordan among them, two Arab countries with which Israel has peace agreements, but had no comment when asked about Saudi Arabia.
Netanyahu also said he wants Trump's help in reaching an agreement with the Palestinians; "Two states for two peoples. And that's where I'm focused," Netanyahu said.
"Yeah, I'd like to have President Trump, when he gets into the White House, help me work on that. I'd like to see if the Arab states can help me achieve that. It's a new reality. A new possibility," he said.
While Netanyahu has been publicly committed to the two-state solution for several years, many in his coalition, and even in his Likud party, see the Trump administration as an opportunity to move past the idea of a Palestinian state and annex much, if not all, of the West Bank.
Jewish Home leader Naftali Bennett has been the most vocal proponent of annexation, saying last month that:
"Trump's victory is an opportunity for Israel to immediately retract the notion of a Palestinian state in the center of the country, which would hurt our security."
But Netanyahu reiterated his long held demand that the Palestinians first recognize Israel as a Jewish state.
"The real reason we haven't had peace is because of a persistent refusal of the Palestinians to recognize a Jewish state in any border," Netanyahu said. "And if they do, this thing will begin to correct itself very quickly."