---
Grenades and high-explosives taken from Portuguese military base in a brazen heist are still unaccounted for over a year later. Portugal marked the first anniversary of a series of deadly wild fires early this year.
As Portugal marks the first anniversary of a series of deadly wild fires questions remain about the disappearance of a large cache of Portuguese military munitions which disappeared at the height of that disaster. From June to October of last year over a hundred people were killed in wild fires aided in part by an unusually dry summer in the Iberian nation.
At some point, during the height of the fires, a group of thieves are believed to have infiltrated a Portuguese military facility at Tancos. The military base I located 60 miles (100km) north-east of Lisbon in an area home to an air field, parachute school, and base for a military engineering unit.
The brazen heist raises questions about the security of NATO munitions and weapons stored across the 29 NATO member states. While many NATO member states purchase or advocate for advanced weapons systems to be stored within their states, they often lack the security resources to secure those resources.
Recent upgrades at Aviano's Air Force base suggested that the protection of nuclear weapons stored there were inadequate for decades. Furthermore, the United States as part of its NATO obligations maintains an unknown number of nuclear weapons at the Incirlik Air Base in Turkey located just 60 miles from the Syrian border.
The brazen raid on a Portuguese military base should be a warning for NATO leaders to consider new approaches to more mundane issues like security as well. Though the robbery in Portugal was not discovered until June 28th, the robbery was thought to have occurred days earlier when Portuguese soldiers from the Tancos area joined in fire-fighting efforts. In all, over 1,000 fire-fighters across Portugal battled the blaze between June 17 to 24th.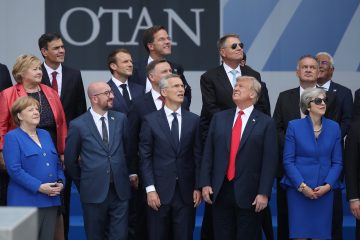 —
The thieves cut a hole in a fence and retrieved anti-tank grenades, plastic explosives and small arms ammunition. The government initial counting of the stolen munitions included 1,450 9mm cartridges, 264 units of plastic explosive, 150 explosive grenades, 18 teargas grenades, 44 anti-tank grenades and according to Spanish press sources.
Some of the weapons were later found but, others remain missing.
"After six months, through a judicial document from the State Prosecution, responsible for the investigation, the country received the information that there were still weapons stolen that were not recovered,"
said João Rebelo a member of Portugal's parliament with the CDS – People's Party, "in clear dissonance with the Government and the Minister of Defense, the Army Chief of Staff [told parliament], that he was not aware if the weapons were recovered or not and he did not know where. On this issue it is clear the incompetence of the Government and lack of organisation. They are completely in the dark."
The President of Portugal called for a no-holds investigation and raised the possibility it was linked to heists at other NATO facilities though it is unclear what incident he was referring to.
"They could have stolen grenade launchers and larger ordnance if they had wanted, there was nothing to stop them,"
says Rebelo who sits on various defence related committees.
The fact that some of the larger munitions were not taken has led to some speculation that rather than terrorists a criminal gang was responsible. Equipment such as tear gas grenades and anti-tank mines could also be of use to bank robbers. Who ever was responsible knew that the bases CCTV cameras were not working and the base was unguarded.
"I think there is a good chance this was a book-keeping error that the base knew about for some time,"
said a member of a Portuguese security official who declined to speak on the record about the incident.
The official conceded that the robbery was one of the largest security incidents for Portugal in 2017 along with a cyber-attack on several government ministries that originated in China.
The robbery occurred only a few weeks before the Barcelona terrorist attack of 2017 which left 24 people dead including eight suspected terrorists heightened concerns would be used in a terrorist attack but, since then there has been no public news about the missing weapons.
The issue highlights the irony at the core of the Portuguese defence establishment. Portugal punches above its weight in international peace-keeping with deployments to Afghanistan to Somalia. The country's deployment to the Central African Republi qc likely encouraged Brazil, another Lusophone country to announce a deployment there this year.
Portugal has even floated the idea of deploying United Nations peacekeeper to the Donbas conflict in Ukraine. Conversely, the country only spends 1.3% of its GDP on defence despite a NATO mandate to spend 2%, and many of its facilities are in need of modernization and improved security.
"After those weapons were stolen it was an incredible week in Portugal where everyone was concerned we were discussing security, terrorism, and defense spending"
says Amish Laxmidas, President of the Youth Atlantic Treaty Association of Portugal "Now a year later though the issue has largely been forgotten but, they shouldn't be those weapons are still out there."