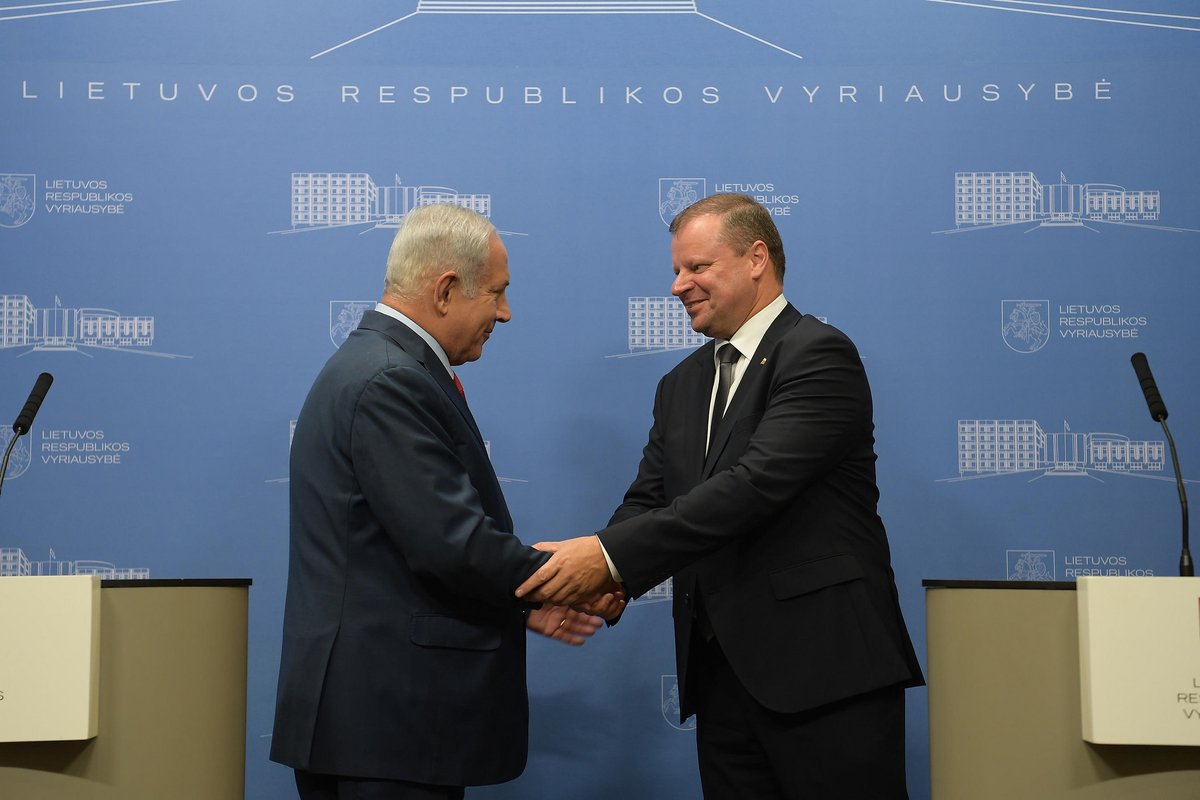 [toggler title="David Wainer & Milda Seputyte" ]David Wainer is a contributor to Bloomberg. Milda Seputyte is a contributor to Bloomberg.[/toggler]
---
During his recent visit to Lithuania, Israeli Prime Minister Benjamin Netanyahu laid a wreath at a memorial to 70,000 Jews massacred by the Nazis and their collaborators. This tiny corner of the former Soviet Union holds a particular significance for Netanyahu: He has family roots in Lithuania.
It made sense that he would pick the country, a staunch ally of Israel, as the site of a Baltic summit that also included the leaders of Estonia and Latvia.
Yet his presence in the former East bloc is more a reflection of a shifting political world than a tribute to the past. Netanyahu has been busy building ties with a region increasingly at odds with the European mainstream. With anti-Semitism on the march in Poland and Hungary, it might look like an unlikely alliance.
But the axis of nationalist dissent that's split Europe over support for Donald Trump's presidency, taking in Muslim refugees, and negotiating with Iran presents an opportunity for him. "Israel's interest is to break up European unity on Israel-related issues," says Michael Oren, a former Israeli ambassador to the U.S. and a deputy minister in Netanyahu's office.
"To me, the less united Europe is, the better. I'm optimistic about that. A united Europe hasn't been a blessing for this country."
For years, Israel has felt unfairly treated by the European Union. Officials in Brussels have strongly opposed the building of settlements in the West Bank and wanted to label products that originate from there, which the Israelis called an attempt at a boycott. More recently, the EU supported the landmark deal with Iran over its nuclear program even after Trump pulled out. Brussels also criticized the relocation of the U.S. Embassy to Jerusalem.
The EU's foreign affairs chief, Federica Mogherini, was due to stop in Israel in June, but Netanyahu declined to meet her. A few weeks later, however, he gave a hero's welcome to Hungarian Prime Minister Viktor Orbán, a vocal supporter of Trump and Russian President Vladimir Putin.
Netanyahu praised Orbán, who describes Hungary as an "illiberal democracy," and said the prime minister had stood up for Israel "time and time again." Netanyahu's son called Orbán the "best leader in Europe," echoing praise from Trump's former adviser Steve Bannon.
"Netanyahu can upgrade their access to the White House"
The Israeli leader received a similarly warm reception in Budapest last year, when he avoided criticizing Orbán for running a political campaign that made billionaire philanthropist George Soros public enemy No. 1. The head of the local Jewish community and Israel's ambassador to Hungary said Orbán's campaign incited fear among Jews for its use of anti-Semitic tropes. "It stunned us that the Israeli government didn't stand by us," says András Heisler, head of Mazsihisz, the largest Jewish organization in Hungary. "Politics trumped values."
Netanyahu has taken a combative approach toward liberal institutions, railing against NGOs and the media, and chosen an increasingly nationalistic path. His government recently passed a law enshrining the state's Jewish character, prompting an outcry from civil rights organizations that say it discriminates against the country's Arab minority.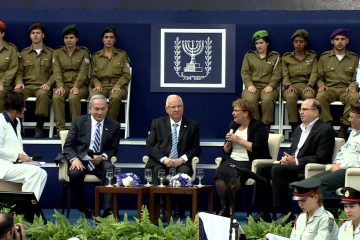 —
For Orbán and other Eastern European leaders, Israel also offers an all-important route to Washington. The election of Trump strengthened Israel's relationship with the U.S. and encouraged its embrace of the EU's rogue leaders. Netanyahu used a stop in Berlin this year to meet Trump's ambassador to Germany, Richard Grenell, who stirred controversy there by telling Breitbart News he wants to "empower" conservative forces across Europe.
Trump visited Warsaw six months into his presidency and heaped praise on Poland, which has been in a standoff with the EU over the independence of Polish courts. He's also identified Orbán as a man the U.S. can do business with, says incoming U.S. ambassador to Hungary, David Cornstein.
Hungary has repeatedly abstained rather than vote against Israel at the United Nations, including over Trump's decision to move the U.S. Embassy in Israel to Jerusalem from Tel Aviv. In May it joined Romania and the Czech Republic in blocking an EU statement criticizing the switch. "Netanyahu can upgrade their access to the White House," says Alon Liel, a former director-general of the Israeli Foreign Ministry. "Contact with Netanyahu is half the way to Washington."
The tighter friendship between Poland and the U.S. was tested this year after Poland introduced a law making it a crime to suggest it was in any way responsible for the Holocaust, part of a nationalist drive to protect Polish honor. After the U.S. Department of State said the law may weaken "Poland's strategic interests and relations," it was watered down to make any defamation punishable by fines rather than jail. Netanyahu duly threw the government a bone.
In June he signed a statement with Polish Prime Minister Mateusz Morawiecki that hailed cooperation between the two countries. Together they condemned not only anti-Semitism but also hostility toward Polish people.
"Warsaw needs this support, especially now that it has a pariah status in the EU," says Wojciech Sadurski, a Polish academic who's a professor of jurisprudence at the University of Sydney in Australia. "And it knows that better relationships with Israel will help a great deal as a ticket to Washington." —With Zoltan Simon, Wojciech Moskwa, Irina Vilcu, and Marton Eder
[toggler title="Editorial Note" ]This article was originally published by Bloomberg.[/toggler]