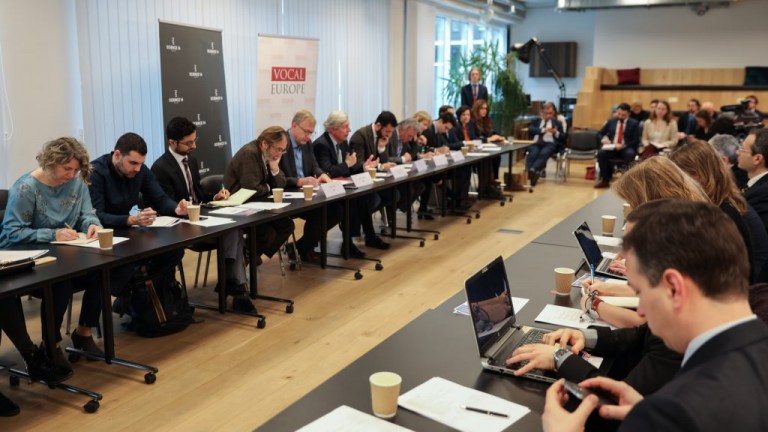 Who we are
Founded in 2013, Vocal Europe is a Brussels-based Think-Tank dedicated to research and communication on EU Diplomatic Actions, Enlargement Policy and Democracy. Through research, communication campaigns, and policy events, it aims not only to support but also challenge European decision-makers at all levels to make informed decisions based on analysis, and providing a platform for engaging partners, stakeholders and citizens in EU policy-making.
What we do
As one of the few think tanks in Brussels covering EU Diplomatic Actions, Enlargement Policy and Democracy; we offer exchanges, provide insights on and potential solutions for EU policy-making through:
Research projects
Research publications
Policy events such as discussion forums, panels. seminars, and workshops
Data Privacy Policy
Our data privacy policy is available here.
Our independence
Our institutional independence is rooted in the individual independence of our researchers. Vocal Europe does not take positions on issues. As an organisation, Vocal Europe is committed to:
carry out state-of-the-art policy research, addressing the challenges facing Europe;
achieve high standards of academic excellence and maintain unqualified independence and impartiality;
provide a forum for discussion among all stakeholders in the European policy process;
build collaborative networks of researchers, policymakers and other stakeholders across the whole of Europe
Statutes
Vocal Europe is a non-profit international association under Belgian law (VZW), governed by its statues (dated 6 July 2018).
Vocal Europe's Board
Vocal Europe's Board is composed of independent personalities with broad research and policy experience, representing their individual views only. The board provides the strategic direction of the organization. Click here to view all members of our Board.
Financing
Vocal Europe's funding comes from a variety of sources, including individual and institutional membership fees, research projects, foundation grants and conference fees.