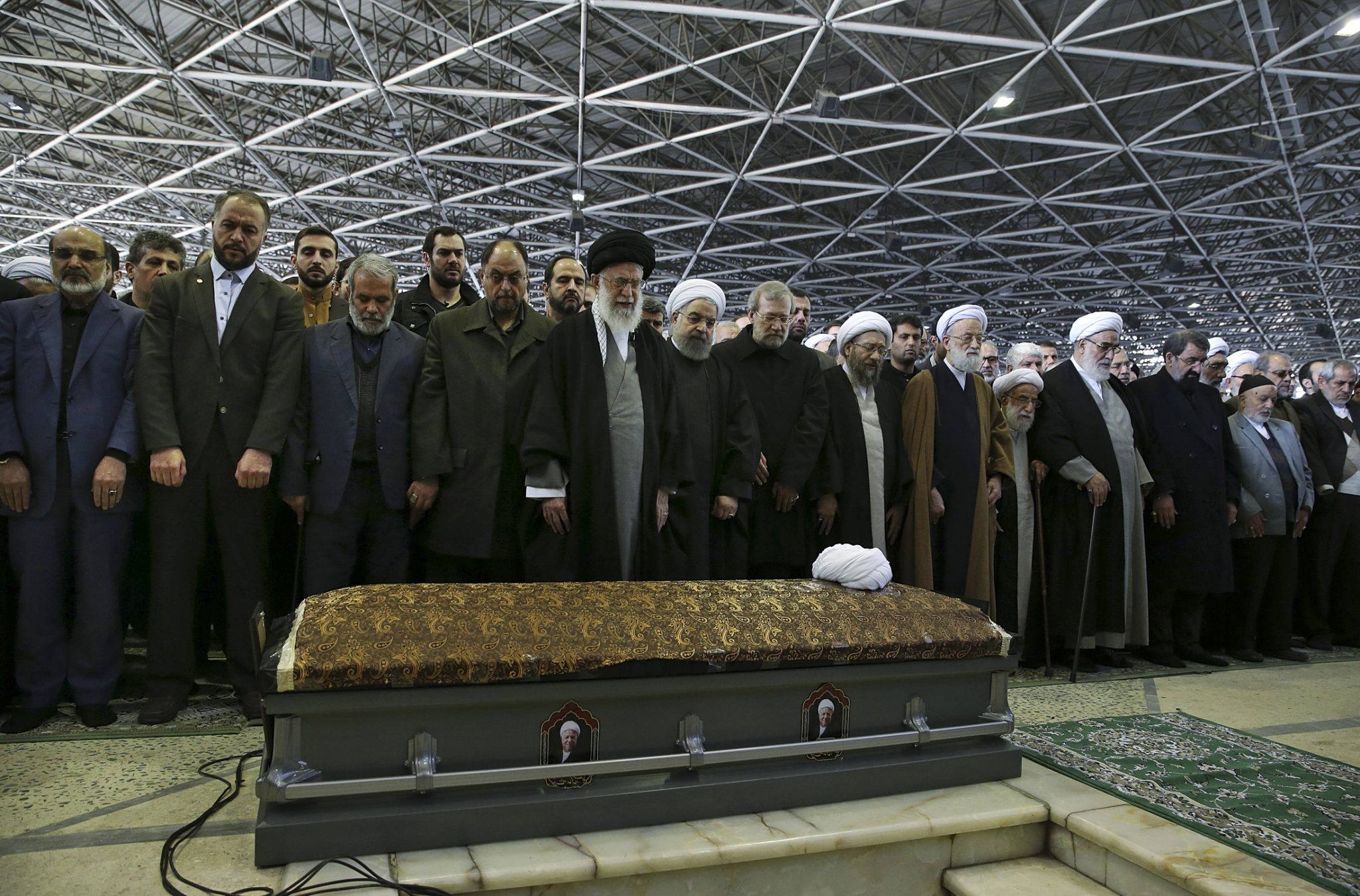 DISCLAIMER: all opinions in this column reflect view of the autor(s), not of Vocal Europe
The death on Sunday of the Iranian mullah Ali Akbar Hashemi Rafsanjani marks a milestone in the life of Iran's clerical regime. It may also mark a major step toward that regime's death, especially if European governments and the world community at large seize upon the opportunity to change the narratives that have so far guided their dealings with the Islamic Republic.
Rafsanjani was to a great extent the architect of deceptive Iranian foreign policies, which encouraged Western powers to pursue friendly dealings with the regime even while being demonized and in some cases directly attacked by that regime and its proxies. In the 1980s, Rafsanjani led the way in opening up back-channel communications with Ronald Reagan's White House, ultimately leading to the Iran-Contra scandal.
Rafsanjani was able to use his earliest positions in the regime to free American hostages from Lebanon, but only because he had previously used those positions to expand Iran's relationships with terrorist groups like Hezbollah. Just months before assuming office as president of the Islamic Republic, Rafsanjani explicitly counselled those groups to kill "Americans, Britons, and Frenchmen" in various corners of the globe, as retaliation for Israel's activities.
It should have come as no surprise, then, that Rafsanjani was eventually implicated in the bombing of the Argentine-Israeli Mutual Association (AIMA) building in 1994, an incident that killed 85 people. Many other killings were similarly carried out with Rafsanjani's knowledge or explicit orders during his time as president, including the assassination in Switzerland of Kazem Rajavi, a renowned human rights advocate and brother-in-law of President-elect of the National Council of Resistance of Iran (NCRI), Maryam Rajavi.
This only scratches the surface of the crimes to which Rafsanjani was in some way connected. And yet in spite of all this, even in death some in the international media has tended to portray him as a "moderate" and an organizing force for those who would reform the Iranian regime from the inside. In reality, his ultimate role and mandate– from the first days of the Islamic Republic until the day of his death – was to preserve the theocratic system and use both domestic repression and foreign manipulation to prevent the growing number of opponents of the regime from organizing against it.
This priority was so great for Rafsanjani that in 1981 he used his theocratic authority to declare that "divine law" called for the murder or execution of any and all members of the leading Iranian opposition group, the People's Mojahedin Organization of Iran (PMOI/MEK). That sentiment would soon become a guiding principle when the regime's founder, Ruhollah Khomeini issued a fatwa in 1988 which led to the execution of approximately 30,000 political prisoners, activists of the MEK, many of whom had already served the sentences handed down by Iranian courts.
One member of the death panels that ordered those executions was Mostafa Pourmohammadi. This past year, in response to criticisms that emerged after a leaked audio recording revealed details of the 1988 massacre, Pourmohammadi invoked Rafsanjani's argument and declared that he was proud to have carried out "God's commandment" of death for the MEK. Not only does Pourmohammadi continue to hold influence in the Islamic Republic, he currently serves as Minister of Justice in the administration of President Hassan Rouhani, a protégé of Rafsanjani and another so-called moderate.
Today, Rouhani fills a role similar to that which Rafsanjani filled for upwards of three decades. He encourages Western powers and the international community to think of his as a force for change, while simultaneously enforcing the repressive laws of the clerical regime and cooperating with the most hardline factions of that regime, including the Intelligence Ministry and the Iranian Revolutionary Guard Corps.
Unfortunately, some Western governments have invested a great deal of faith in Rouhani's "moderate" credentials. But whatever that investment may be, it pales in comparison to what the West invested in Rafsanjani during and after his presidency. It is time for international policymakers to alter their naïve support of Rouhani.
The West must avoid repeating past mistakes at this crucial juncture. The NCRI issued a statement following Rafsanjani's death, and in it Maryam Rajavi declared that "one of the two pillars and a key to the equilibrium of the religious fascism ruling Iran has collapsed."
And it is certainly true that as Maryam Rajavi put it "Rafsanjani who had always been the regime's number two, acted as its balancing factor and played a decisive role in its preservation. Now, the regime will lose its internal and external equilibrium."
The loss of such a foundational figure for a regime – especially one as globally isolated as Iran – is devastating.
And it comes at a time that Tehran is facing crises from all directions. With the Obama administration on its way out, the era of unwarranted concessions seems to be on its way out. Despite unfettered support for the Syrian dictator, Bashar Assad and pouring tens of thousands of Revolutionary Guards to maintain Assad in power, Syria seems to have turned into a quagmire and it is evident more than ever that Tehran is a total obstacle to a settlement.  Despite the nuclear agreement, the Iranian economy is in shambles due to focus on foreign intervention and rampant corruption and as such the population has become restive, and signs of dissent at home are growing.
It is time that the policy on Iran be shifted to the Iranian people and the organized resistance with the power to facilitate change on their own. Many of Iran's domestic activists are already striving to do just that.
Rafsanjani's death should serve as the nail on the coffin of the fantasy of internal moderation by the mullahs; a bankrupt and failed policy.
The European political calculation should change. As circumstances change and the international community adjusts to a world without the second pillar of Iranian theocracy, European policymakers should be encouraged to look not to Rafsanjani's successors but rather to the Iranian people themselves as a source of hope for the future of that country.
*Hossein Abedini is a member of the Foreign Affairs Committee of the National Council of Resistance of Iran (NCRI). He tweets at @HoAbedini